Archive for February, 2013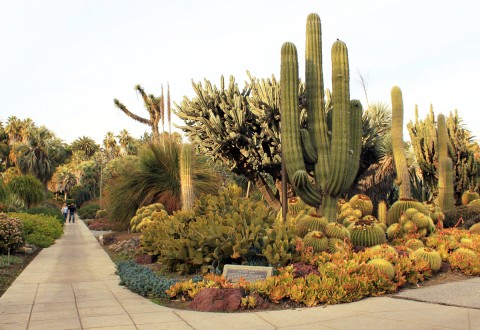 On my trip I also spent a few days in Los Angeles visiting a friend and went with him to the Huntington. Strikingly different succulent plantings compared to the Desert Museum and the natural areas around Tucson. It felt like the desert on steroids. Really cool, but in sort of an over-the-top body-builder way. I liked it, but was sort of overwhelmed and didn't take many photos.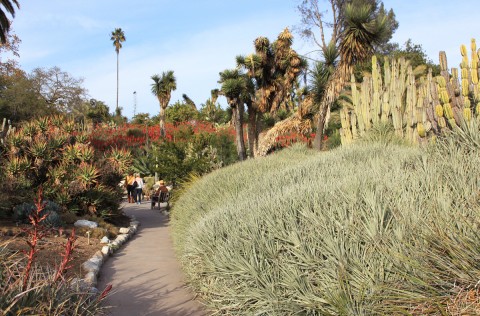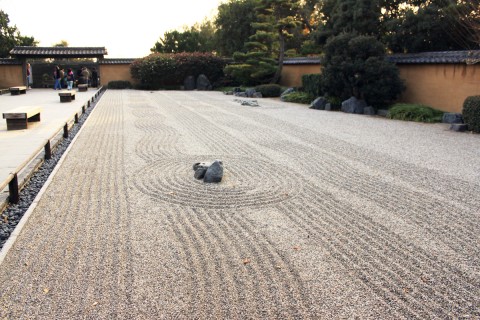 Instead I made my friend slow down and wait for me in the Japanese garden. Really nice stone detailing. I realized I've had a blog named DryStoneGarden for over four years without ever showing a photo of a literal 'dry stone garden' which is another one of the names for a zen garden. That wasn't the reason I chose the name and no one has ever mentioned it, so perhaps I'm the only one who thinks of that alternate meaning. We used to sometimes have clients who wanted Japanese detailing and we incorporated elements of the dry stone garden in a couple of designs, so maybe I'll go back and get photos of one of them some day. I would have liked to spend longer there at the Huntington zen garden, but I had to keep up with my friend.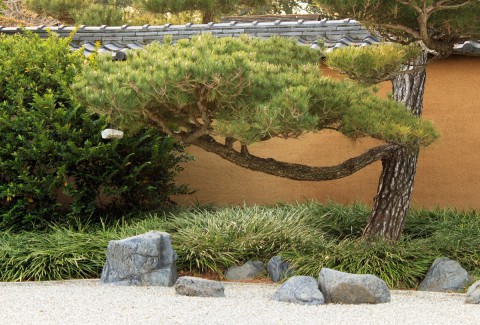 The rock weighting the branch above the cluster of stones is a great detail.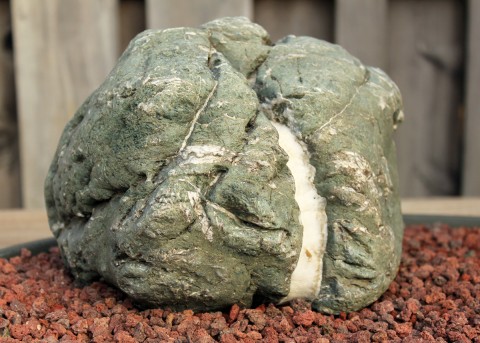 The garden was displaying several suiseki, also known as scholar rocks or viewing stones. I've really liked these on the few occasions I've seen them, and I wish I knew more about the whole tradition. The vein of white quartz on this one is meant to resemble a waterfall. There's a post about the Huntington's Suiseki collector Bob Watson at Capital Bonsai. Beautiful stones.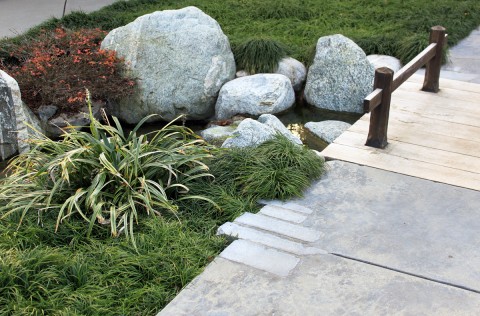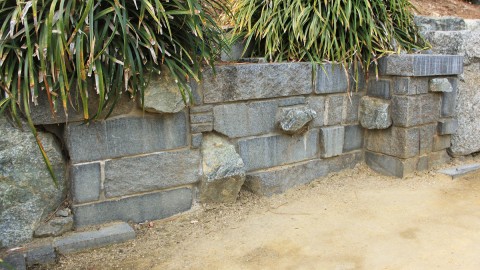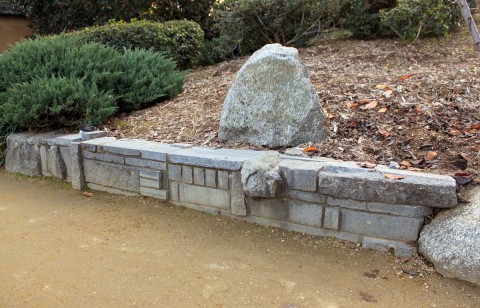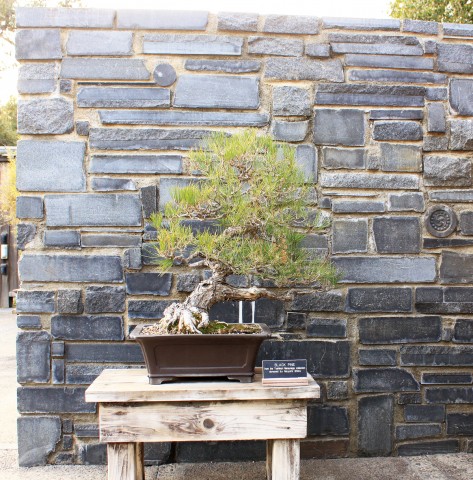 There was also a number of bonsai. I'm not a big bonsai aficionado, but the Huntington has some great ones.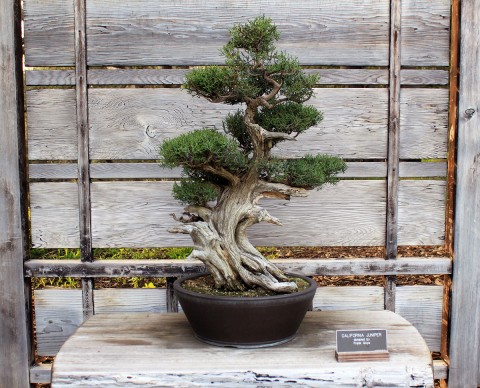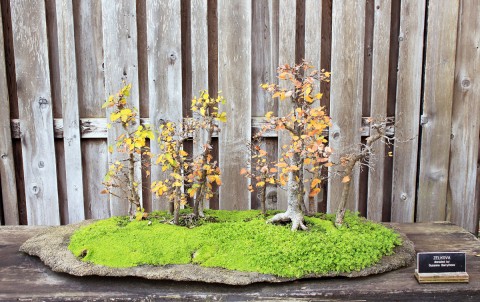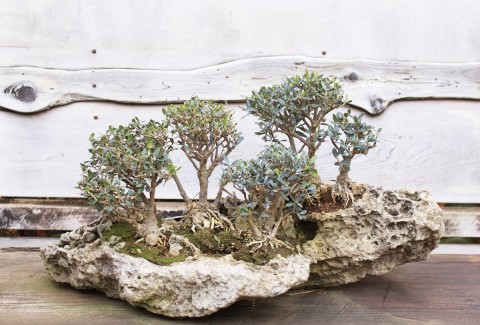 I wish I knew more about the genres of bonsai that involve rocks.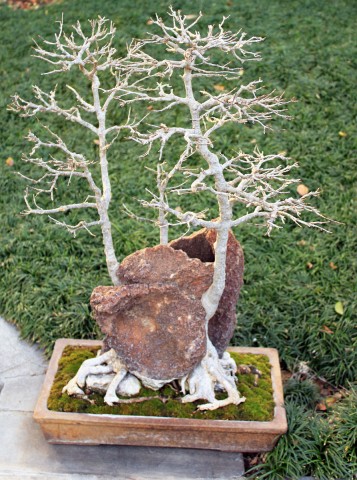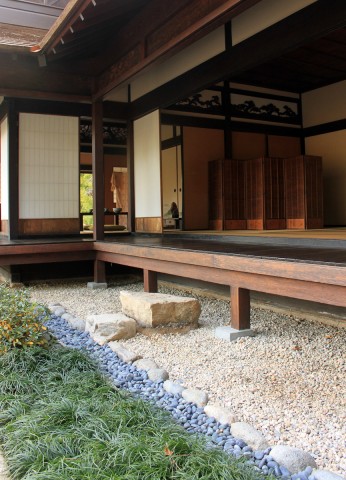 And the last photos I took, the entry paving to the teahouse and the river stones beneath the drip line of the roof. I went through the other areas of the garden even more quickly than I had gone through the succulent garden. I realize Southern California gardeners must know the Huntington quite well, but it was new to me. Quite an impressive garden. I really was overwhelmed with the size of it, and the size of some of the specimens and mass plantings, and all of the care and effort and resources put into the garden. Quite a place.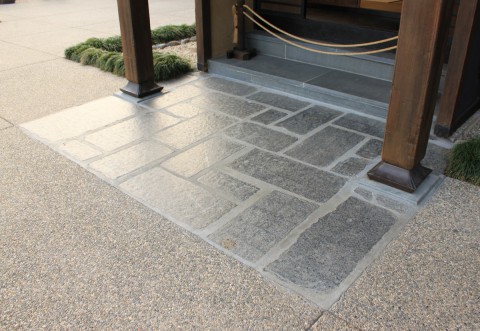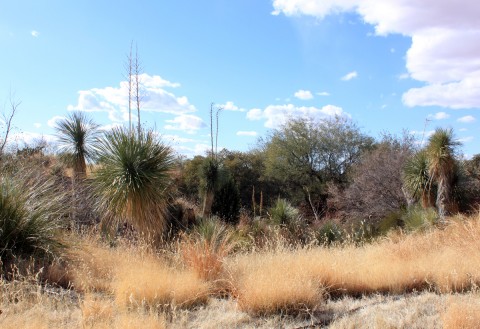 A highlight of my trip was the Arizona-Sonora Desert Museum. It's a botanical garden/zoo/aquarium/museum. Really great. Basically, it's a botanical garden showcasing the different plant communities associated with the Sonoran desert, but it's combined with a zoo of Sonoran animals, plus a reptile house and a couple of aviaries, plus a great display of the different minerals found in Arizona, plus a new aquarium, and probably a few other things I'm forgetting. The aquarium isn't especially big and takes only about a half an hour to see, but it has some nice salt water tanks with things from the Sea of Cortez and some fresh water tanks with less showy species from the riparian areas of the desert. The zoo has a porcupine, fox, cougar and bighorn sheep, not the most exotic animals I've ever seen in a zoo, but still pretty interesting and the garden setting kept away that negative vibe that zoos sometimes collect. It made me wonder why humans ever made zoos and botanical gardens separate in the first place. I was hugely impressed.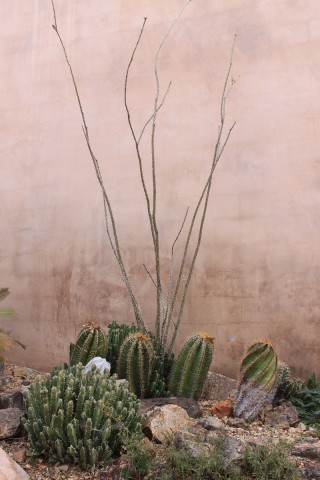 The garden has some nice plantings, including ones with desert plants set against concrete walls in that style southwest designers do so well. Tucson, in general, seems to have the native Sonoran plants well integrated into the landscaping, and then the Desert Museum does a good job of taking those plantings to the next level.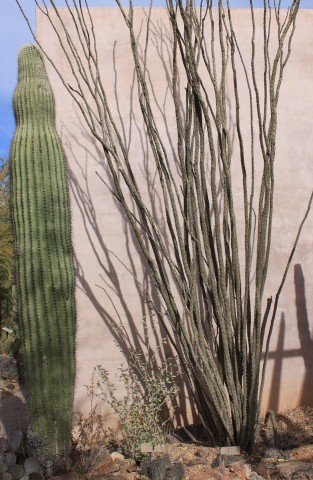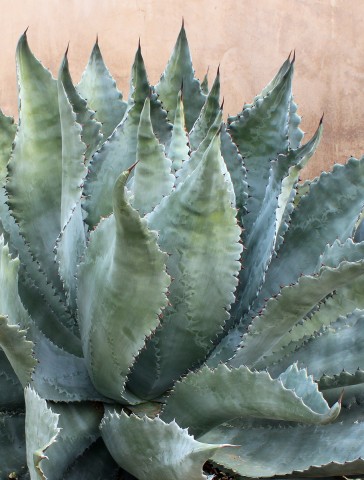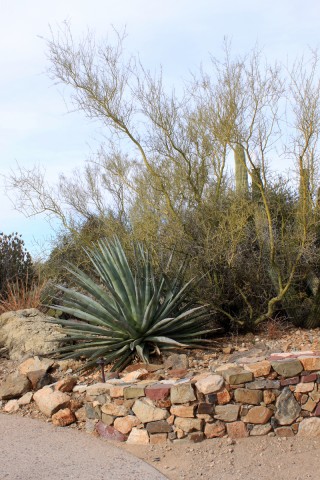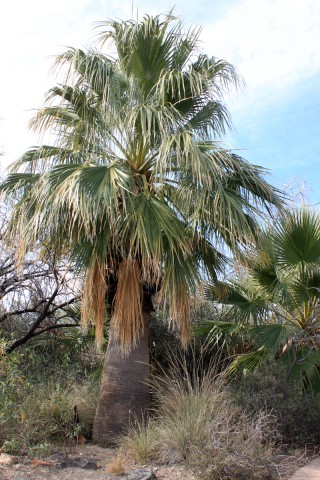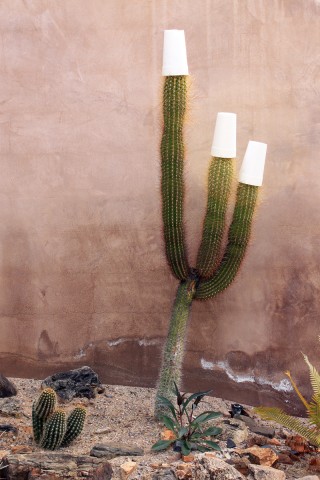 Nighttime lows were in the teens when I went to the Desert Museum, so plants from areas to the south were bundled with various things to protect them from the cold. I always find improvised frost protection kind of charming. The styrofoam cups on the cactus make it look like the garden had hosted a frat party.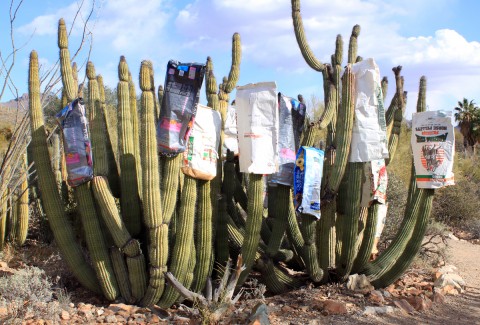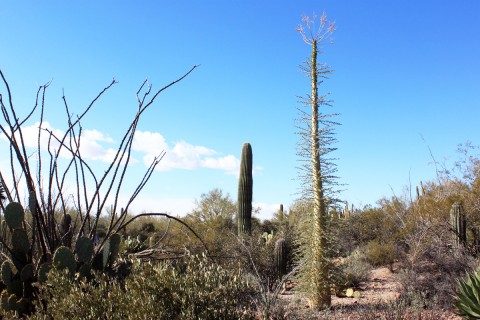 The garden has a few Boojum trees, including one tall specimen. I would love to see the Boojum forests down in Baja. Anita and I were just a little too far south when we were down there a couple of years ago. Going back to see them is just about the highest thing on my horticultural 'to do list'.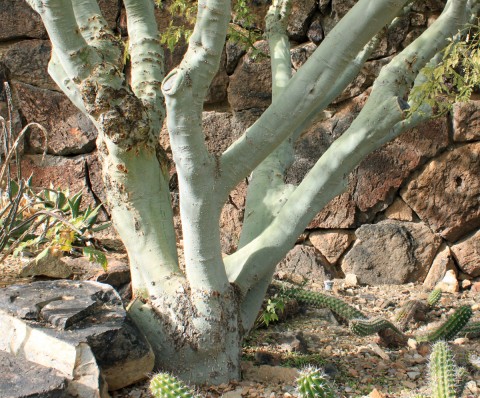 Palo Brea, Parkinsonia praecox, was a new one for me. Really beautiful. The garden also has beautiful Palo Verde, Palo Blanco, and Ironwood specimens, including a semi-circle of Ironwoods as shade trees for a patio.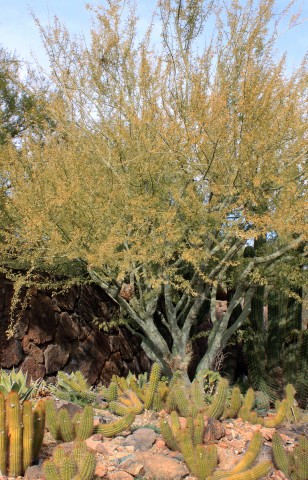 Has anyone seen a Palo Blanco growing in the Bay Area? I don't think I have, but it seems like it should be possible to grow one out in Contra Costa.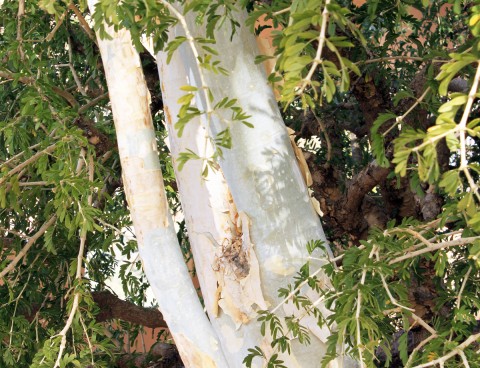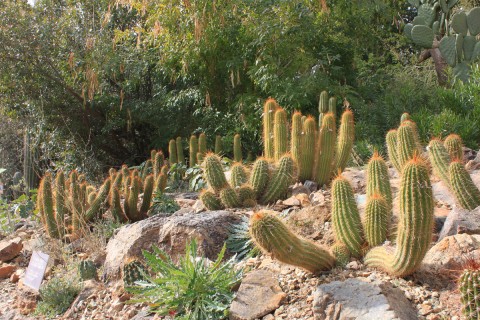 These photos just scratch the surface. It's one of the best botanical gardens I've ever visited. Really great, highly recommended.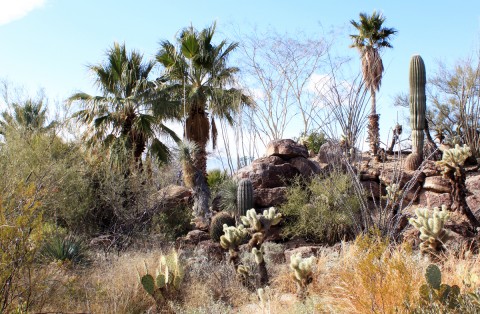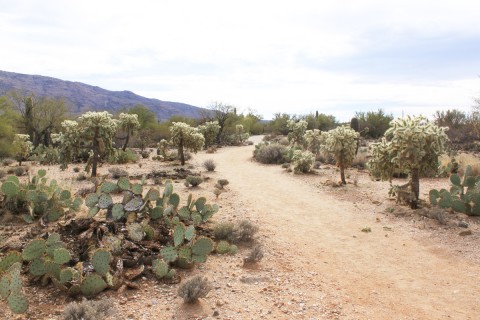 I got back from my road trip a little while ago. It was great. Much colder than I expected, but Anita says it was also cold around here. I started in the Tucson area, visiting a friend and doing a little bit of climbing. I spent a couple of days hiking at the lower elevation parts of Saguaro, a couple more hiking at higher elevations in the Catalina Mountains east of Tucson, and one day hiking in the Santa Rita Mountains about an hour south. I also went to Kartchner Caverns and Colossal Cave State Park, and spent a day at the Sonora Desert Museum. The Desert Museum was great; I went to several botanical gardens on the trip, but I'll put those photos in separate posts. These photos are all from Saguaro and Organ Pipe.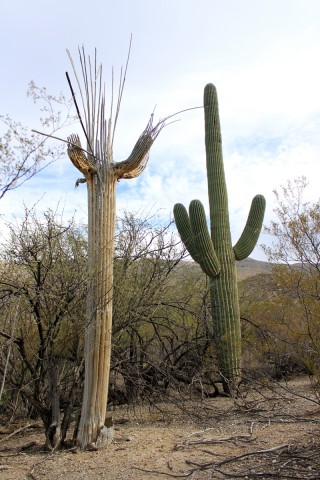 It was my first time in that part of Arizona. I found there was a lot of overlap with plants I knew from Baja or Southern California, but with subtle differences. I hadn't seen saguaros before, just Cardons, the Baja equivalent. I like the saguaro skeletons almost as much as the living ones. I was surprised at how many of the plants I recognized when I went up to higher elevations, to the grass and oak woodlands. There was an Arizona version of sycamore, rhamnus, rhus, and madrone, and more species of scrubby oaks than I could keep track of.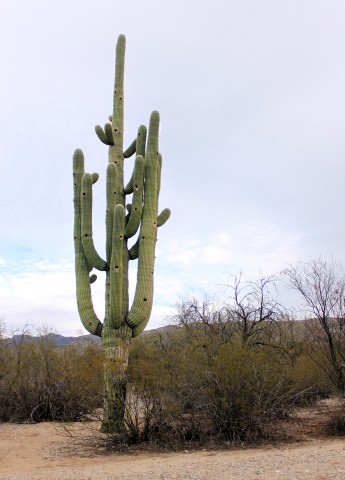 The Ocotillos were my favorite plant there. I know them from when I went to school in San Diego and would hike in Anza Borrego State Park. I think they're the first desert plant that I ever loved.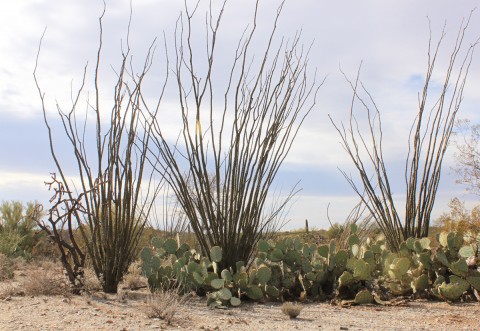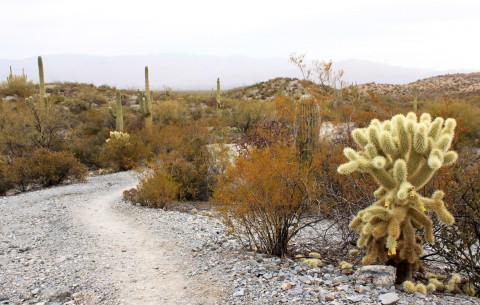 —————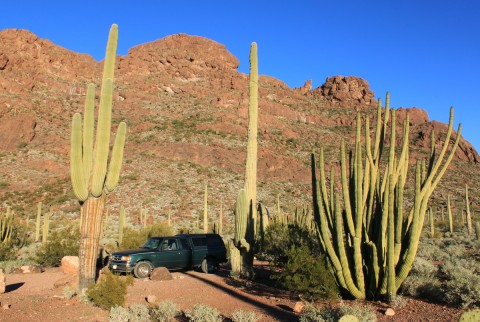 After Saguaro and the other Tucson parks, I went to Organ Pipe Cactus National Monument on the border with Mexico. It has a lot of the same species as Saguaro, but it's also the one part of the US where Organ Pipe Cactus and Senita Cactus make it up across the border. It might sound strange to call the desert lush, but the area where I camped, Alamo Campground, was noticeably more lush than where I hiked in Saguaro, with more foliage on the plants and a lime-green cast to to the silver-leaved foliage. It was also the one place in Arizona where I saw leaves on some of the ocotillos. It could be because the soil was redder, with more iron in it, or maybe the area had received a little more rainfall. The weather had warmed up after the cold snap in Tucson, so it felt almost tropical.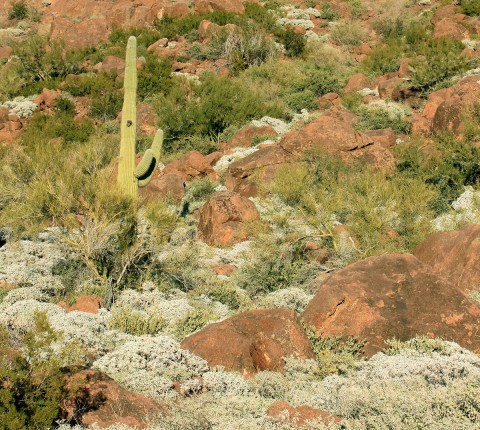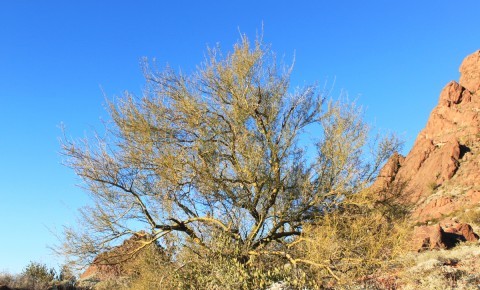 I hadn't thought too much about Organ Pipe being on the border, but in the past decade the park has had a lot of problems with drug traffickers. There doesn't seem to be as much trouble now, but that's because just about every third person or vehicle in the park is Border Patrol. There are a couple of checkpoints just outside the park and one guy came around to my campsite and spent some time questioning me about what I was doing in the area and what was in my truck and so forth. And while I was hiking I found a stash of about forty empty water bottles that were obviously used either by drug runners or undocumented immigrant groups, so there is obviously still activity. At first I was happy to be the only one at the little campground, but by the time I left I had much less confidence in my solitude. Rather different from my usual national park experience.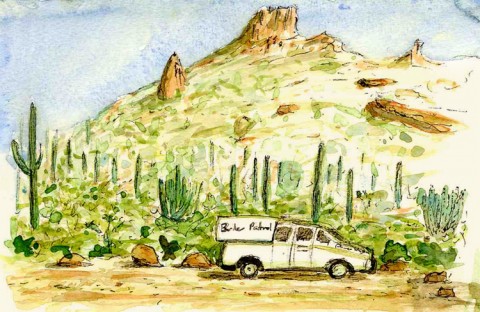 While the Border Patrol guy was filling out his report on me, I made a sketch of his truck.

It's one of the prettiest little patches of desert I've ever visited, though, and I wouldn't hesitate to go back again. The photo above is pretty representative. It's best if you click to see it larger.
You are currently browsing the DryStoneGarden blog archives for February, 2013.
Categories