Sharpie Lithography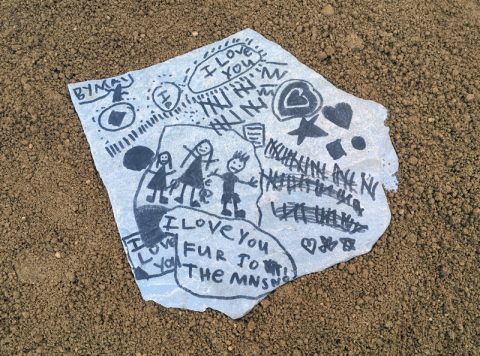 During the week I'm staying at a house in Richmond that doesn't have internet or cell reception, which is probably a healthy thing overall, but a distinct hindrance to blogging. I still have several stone posts from Oaxaca to do, but spring garden season has swallowed me up and I'm going to shift to that. Stone is timeless, so I can post them later this year at some point when I need to imagine myself back on vacation. In any case, it's been a busy spring with lots of gardens looking good after all the rain.
Before I get to that, this photo shows a stone that I've been carrying around in my truck to weigh down tarps. I left it at a job site over the weekend and came back to find it had been appropriated into the oevre of a six year old artist during my absence. Modern in its conception, I see echoes of Basquiat, maybe a little Cy Twombly or even Jim Dine. Definitely the most charming thing to greet me at a job site in a while.
This entry was posted on Sunday, May 21st, 2017 at 7:05 am and is filed under miscellaneous. You can follow any responses to this entry through the RSS 2.0 feed. You can leave a response, or trackback from your own site.