Richard Serra's Sequence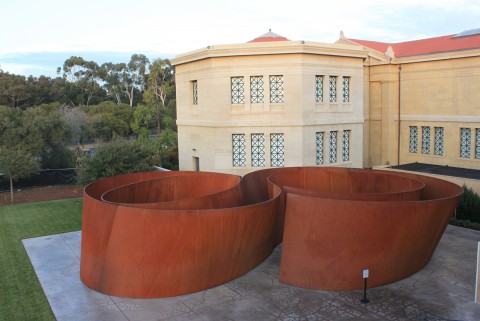 For my first bit of culture in the new year, I saw the Richard Serra installation at the Stanford museum. I can't say enough how much I liked it. Richard Serra can be a bit hit or miss in my limited experience, but this one is great, a big moebius-like double figure-eight, two open circular spaces surrounded by a narrow walkway. At first I thought Sequence was an odd name, but watching people walk through it, I realized that there is an actual sequence to the piece, that everyone does the same thing in the same order. Everyone looks at the walls in the first open circle, then they walk through the outer figure-eight which has a disorienting feel as the walls sinuously narrow and widen, then in the second open space people stare up at the sky, and then when they walk back again through the outer figure-eight they tend to keep looking upwards at the sky. You can feel it change from an object to a space around you.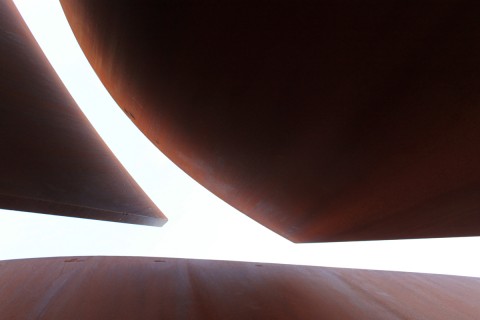 There's a slideshow with some great photos at Stanford University News and a time-lapse of the installation at Daily Serving. It's going to be at the Stanford museum for five years and then it will move to the SFMOMA to a new wing that is under construction, but this time of year, with the sun lower in the sky so you can look up and not be blinded, is a good time to see it.
This entry was posted on Thursday, January 12th, 2012 at 7:44 am and is filed under sculpture. You can follow any responses to this entry through the RSS 2.0 feed. You can leave a response, or trackback from your own site.