Return to Duck Pass Trail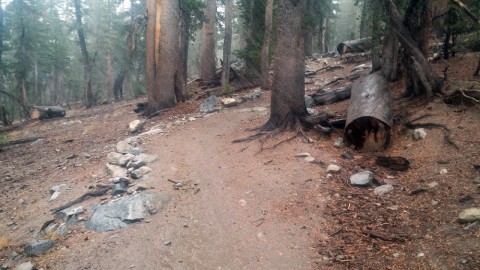 While I was on the east side, I went for a hike on one of the trails where I led a crew about five years ago, Duck Pass Trail. I recognized some of our work but I had a hard time remembering exactly which things we had built, which is actually a good thing; it's often said that good trail work blends into the environment, that it's not meant to be showy or eye-catching, a good trail is one that let's hikers ignore the walking surface and focus on the landscape.
I didn't linger on the trail as much as I might have and I didn't take any photos of the scenery, which is gorgeous on a clear day. The weather deteriorated soon after I left the parking lot, alternating rain, hail, graupel, sleet, and eventually snow. It was disappointing that I didn't have better weather, but educational. I'd never hiked one of my trails in such foul conditions, and I was shocked at how much water flowed on the trail, in some places frothing like a creek with little cascades surging over the steps.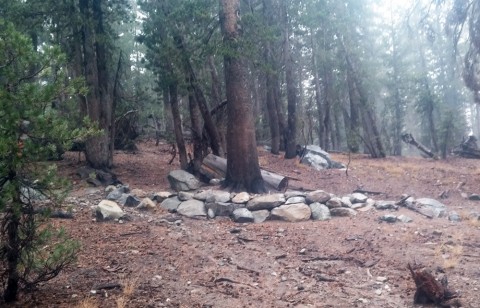 Above is a little wall we built to reroute the section of trail you see in the first photo. The trail used to pass to the right of the tree, but erosion was exposing the roots and forcing hikers to make a high step, so we brought the trail around to the downhill side of the tree. Not bad work for a crew that had never stacked a rock before that day.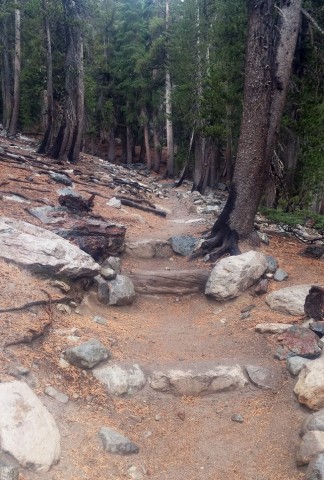 This is a step that I remember my crew building. It was nice to see it looking almost exactly as it did five years ago, despite all of the runners, hikers, horses, and mules that have stepped over it in the last five years. Trail work never really looks like all that much, a clean stretch of dirt instead of a gullied one, but I've had a chance to revisit some of the trails I worked on, and it's always immensely satisfying.
This entry was posted on Sunday, October 25th, 2015 at 12:13 pm and is filed under trails. You can follow any responses to this entry through the RSS 2.0 feed. You can leave a response, or trackback from your own site.